Part of me dies under my overalls
I close my eyes and a woman calls
From a nightmare…
Shave…shit…a shower and a shoeshine
That's it…sack time
Everybody looks like Ernest Borgnine.
He's there, unexpectedly, in John Cooper Clarke's punk poem 'Thirty Six Hours", blaring through the speakers as I write in the middle of the night. They said he was famous for playing hoods and bullies, but to me, he's always been a force for good. A loud, large man, exuding bonhomie on the big screen, the small screen, and even in person; he's been there all my life.
For my generation, he's not just a thug from Black Rock, or Fatso Judson, or even poor old Marty. He's grey-haired, grinning, and unfailingly kind. He's Dominic Santini from Airwolf.
That was always my show – more so than even The A-Team or Knight Rider. Airwolf was
Tom Clancy for kids, with its war veteran heroes piloting a stolen super-helicopter on behalf of a rogue CIA agent. It was the perfect action series for the children of Iran-Contra.
In infant school, we had to keep a diary and share it every week. Other kids gave accounts of wholesome weekends filled by games and parties, in prose guided by parents keen to present their little darlings in the best possible light. I preferred to insert my six-year-old self into enthusiastically scrawled retellings of the previous week's installment of Airwolf, Danger Mouse or Plastic Man.
The best Airwolf episodes sidelined the monosyllabic lead, Jan-Michael Vincent. As heroes go, he was always kind of a stiff, and his ongoing angst about finding a brother who was MIA in Vietnam meant very little to a six-year-old British boy. There were days when I'd gladly have sent my two-year-old sibling Oliver to Da Nang.
Vincent had top billing, but Borgnine's avuncular Santini was the real star of Airwolf: fun-loving, wisecracking, sane. We followed his exploits avidly, on increasingly worn VHS tapes, as the years passed.
Adolescence beckoned, but I don't think it changed me much: by seventeen, the kid who rewrote TV episodes was a snarky film geek. From behind a wannabe-Cobain fringe I traded movie spoilers, raved about Wong Kar-Wai, and dreamed of being the next Robert Rodriguez.
Mr. Borgnine stepped into my life once again, playing the janitor in Mike Nichols' Gattaca.
In a back row at the multiplex, I sat sniggering with my friends: 'It's the dude from Airwolf! Do you think he even knows he's in a movie, or is he just a janitor in real life now?'
Borgnine didn't give a damn. He was up there on the screen, radiating goodwill while Ethan Hawke angsted out the nature-nurture debate for the 21st century. Borgnine was a true star, a vehicle for our own emotional freight. Like a good parent, Borgnine – eternally comforting, tolerant and reliable – seemed to simply endure my obnoxiousness.
Ten years later, in London, the revelation came: Ernest Borgnine's magic could descend from the screen and exist, too, in the flesh.
I had become a teacher in a difficult urban school and was sharing an apartment with my little brother, now a deeply dissatisfied investment banker. Our politics, lifestyles, and incomes couldn't have been more polarized. Neither of us wore the difference well.
Then Borgnine came to town. He was promoting his autobiography. The National Film Theatre was screening Marty, followed by a Q&A and autographs.
I bought tickets and convinced my brother to meet me after work. I rode the train from my school's desolate neighbourhood while he motorbiked in from the financial district. We were late for Marty and went to a bar instead, where my brother vented all the bile he had accumulated at work.
By the end of the second pint, I was reeling from his frustration and venom – until a moment of inspiration struck. Dominic Santini was less than a kilometer from our current location. We might have missed Marty, but all was not lost. I told my brother: 'If Ernest Borgnine shakes you by the hand, everything in your life will turn out fine.'
We arrived just in time for the signing sessions. There was a vast queue of autograph hunters in the NFT foyer, bragging about how much money they'd made from this name or that. My brother joined the line, while my eye was drawn to the foyer bar.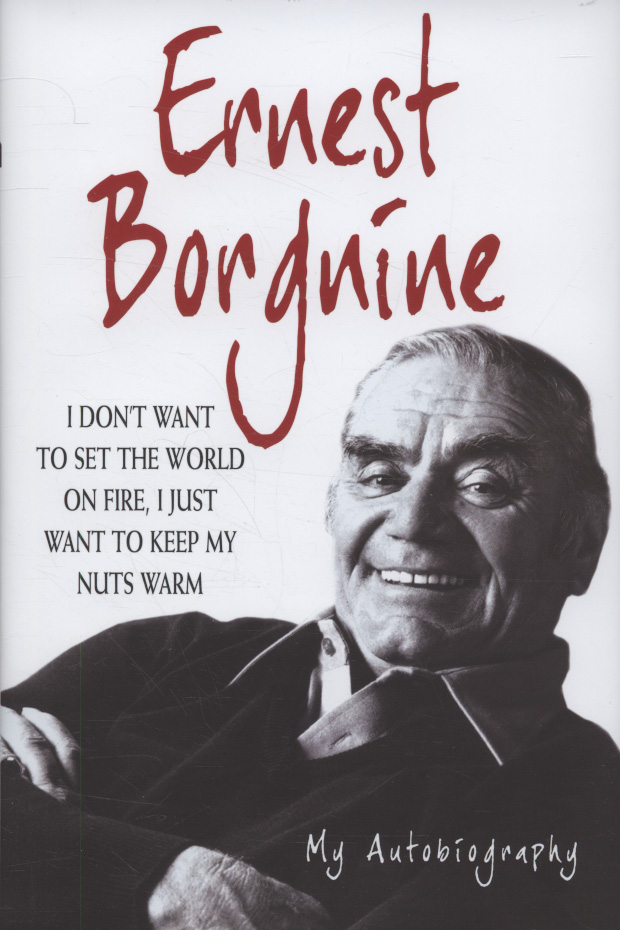 'Martini?'
'Don't mind if I do.'
I brought the drinks over. Borgnine was close, heavier than you imagined him, perhaps a little weary, but a showman to the core. Aides moved along the diminishing line: 'No photographs with Mr. Borgnine! No personal messages, just put your name on this Post-It, please.'
My brother's turn came. Two aides flanked Ernest at his table. My brother nonchalantly handed his motorbike helmet to one and his martini glass to the other.
Ernest peered at the yellow Post-It.
'Oliver? They made a movie with that name. They made a movie about you, kid!'
'Yeah,' my brother joked back. 'Why weren't you in that one?'
Ernest fixed him with a grin and a steely glare.
'Beat it, kid!' He laughed–that laugh, that familiar guffaw!–as he shook Oliver's hand and dismissed him.
I stood back and smiled, seeing my little brother healed and restored by the magic of Dominic Santini. Borgnine had hardly brokered a fraternal peace, but it was a moment of reprieve. It's for these instants of elevation, daftness, and escape that we make stars, that we become fans.
Even now, Borgnine's still with us. Writing this article, I took a break to flick through a copy of James Robinson's Starman comic. Ernest was waiting in the pages, mentioned as a character watches Bad Day At Black Rock during a lull in the action.
In truth, he's been up there in the pop-cultural firmament since before my brother and I were born. He's in the memories of first school days, adolescence, adulthood. He earned his place in the Hollywood pantheon, and our hearts.
And I know I'll see Ernest Borgnine again before I die.
~~~
You can read more from Matt Finch at this website or follow him on Twitter as @booksadventures
TCM's Ernest Borgnine movie marathon begins at 8am EST on 26th July.